There was a time when Mahindra vehicles were mainly used by hardcore SUV enthusiasts and for commercial purposes. However, things have transformed in the last 2-3 years, as we have seen Mahindra vehicles now offer some of the segment's best features and safety in addition to exceptional performance. The entire transformation began with the introduction of the XUV 300, second generation Thar, followed by the XUV 700 last year, and now with the Scorpio-N this year. So it is not an exaggeration to say that Mahindra has adapted the Midas Touch to their vehicles.
Let us begin with Thar's Sucess. The old generation of Thar was only available with a diesel engine and a manual transmission. The new Thar generation now comes with both a petrol and a diesel engine. Both engines are available with either a manual or an automatic transmission. The 10-year limit on diesel vehicles makes the petrol engine an attractive option for residents of Delhi NCR.
Furthermore, the New Mahindra Thar is positioned as a lifestyle product as opposed to a utilitarian off-roader. As a result, the new Gen Thar is a great option not only for off-road enthusiasts but also for those who want to take the Thar to their office or party. Mahindra still includes the 4×4 system as standard with all Thar variants. So, you can choose any variant, with a petrol or diesel engine coupled to a manual or automatic transmission.
There is currently no direct competitor to Thar. Yes, there is a new Force Gurkha, it's a sad state of affairs Force dropped the 140hp, 2.2-litre turbo-diesel from the old Gurkha Xtreme, as it would have been a better match for the new Thar's diesel engine. The Mahindra Thar is distinguished by its 130hp, 2.2-litre mHawk turbo-diesel engine.
It not only produces 39hp more than the Gurkha's Mercedes-derived 2.6-litre engine, but it also produces 50Nm more torque. The Gurkha is only available with a 5-speed manual transmission, whereas the Thar offers both a 6-speed manual and a 6-speed automatic transmission, giving the Thar an advantage. Moreover, because the Gurkha is only available with a diesel engine, we have not included the Thar's 150hp, 2.0-litre turbo-petrol engine in this comparison.
The Mahindra XUV 700 is the company's next Midas Touch model. Seriously, this product has changed the perception of Indian vehicles all over the world. The XUV 700 has nearly everything we expect from an Ideal Vehicle. It is the safest car in India, it has the most powerful engine options in the segment, including AWD, and its features are incomparable to any other car under 50 lakhs.
Mahindra offers two engine options for the XUV700: a 2.0-litre turbo petrol engine and a 2.2-litre turbo-diesel engine. The petrol is the most powerful option under Rs 30 lakh, with an output of 200hp and 380Nm, mated to either a 6-speed manual or automatic transmission that sends power only to the front wheels. The diesel, on the other hand, is available in three tunes: 155hp and 360Nm with a 6-speed manual in the base MX variant; 185hp/420Nm with a 6-speed manual or 185hp/450Nm with a 6-speed automatic in the other variants. Buyers of XUV 700 diesel models can also choose the all-wheel drive (AWD).
Now, let's talk about the newly launched Mahindra Scorpio N, which is the third generation of the iconic Scorpio SUV and appears to be a Desi version of the Toyota LandCruiser. "The Big Daddy of SUVs," is how Mahindra likes to refer to the Scorpio-N.
Most importantly, how it looks tells a lot about it. Unlike other SUVs in its segment, the Scorpio-N has a noticeable larger footprint, which is a great thing for a ladder-frame SUV whose appeal is largely based on its size.  It's 206mm longer than the Scorpio Classic, with a 70mm longer wheelbase (2,750mm) and 97mm more width (1,917mm). However, the height has been reduced by 125mm to 1,870mm.
This time The third row now has front-facing seats as standard, rather than the side-facing seats that were previously available. As a result, we are no longer able to open the side-hinged tailgate for entry and exit. The Scorpio-N is powered by the same engines as the Thar and XUV700.
There's the 2.0 turbo-petrol and the 2.2 diesel, the latter of which comes in two versions. The manual and automatic versions of the 203hp petrol engine produce 370Nm and 380Nm, respectively. The 2.2 diesel engine produces 132hp and 300Nm of torque in its lower state of tune, and 175hp and 370Nm (manual)/400Nm in its higher state of tune (automatic). The 175hp 2.2 diesel Scorpio-N, like the XUV700, has three on-road drive modes: Zip, Zap, and Zoom, with peak power produced only in the Zap and Zoom modes. Power is limited to 138hp in Zip mode.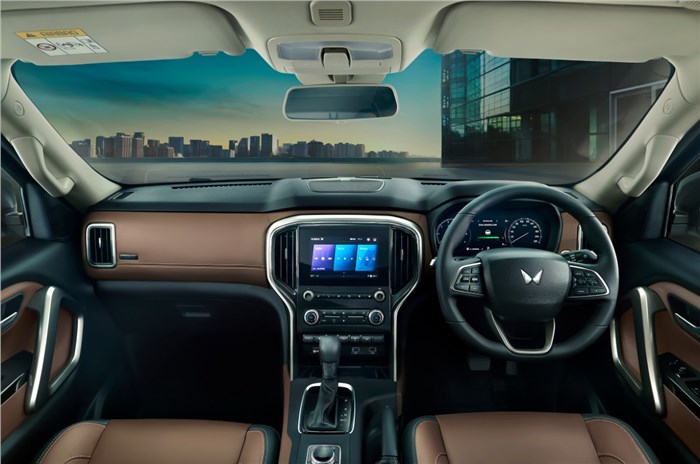 The Scorpio-N comes standard with rear-wheel drive, but higher-spec diesel variants are also available with four-wheel drive. It has a mechanical locking rear differential, an ESP-based brake locking front differential, an independent front suspension system, and a five-link rear suspension as off-road hardware.
When it comes to Mahindra Scorpio-N Bookings, this vehicle made history by receiving 100,000 bookings in less than 30 minutes. With 1 lakh bookings, Mahindra effectively recorded sales worth Rs 18,000 crores in ex-stock value. The first 25,000 bookings were completed in less than a minute. Mahindra received 75k bookings or 1,271 units every minute for the remaining 59 minutes. That is more than a few car manufacturers sell in a month.Mahindra Scorpio-N price starts at ₹ 11.99 Lakh and goes up to ₹ 23.90 Lakh (Avg. ex-showroom)
And if you think they only have these three Amazing products in their portfolio, you're mistaken because Mahindra is about to enter the EV segment. They are preparing to unveil five new electric SUV concepts on August 15th. All we have to do now is wait and see.
`