Volkswagen Group is well-known for its high safety standards all over the world. However, in the Indian automobile industry, only Tata and Mahindra have cars that consistently receive high ratings in crash tests. However, it appears that the Volkswagen Group is ready to get their art recognised in providing safe Made in India vehicles. The Skoda Kushaq and Volkswagen Taigun, both made in India, received a 5-star safety rating in the most recent round of crash tests conducted by Global NCAP. But how does it prove that these cars are safer than any other Mahindra/Tata vehicle? Let's get into it.
Volkswagen Taigun / Skoda Kushaq Crash test 
The Taigun and Kushaq are twin models that share the same platform and are manufactured in the same plant. These "Made-in India" midsize SUVs are the first to receive a 5-star rating for both adult and child occupants.
According to GNCAP, the frontal impact of the two SUVs offered to the driver's and passenger's head and neck was good. The driver's chest provided adequate protection, while the passenger's chest provided adequate protection. Both the driver's and passenger's knees were well protected. GNCAP rates the bodyshell as stable and capable of withstanding additional loadings.
Side impact protection was adequate for the head, abdomen, and pelvis, but marginal for the chest. In addition, the side pole impact test demonstrated that curtain airbags meet the fitment requirements, and the pole impact test was conducted in a version with side head protection airbags. The Volkswagen Taigun and Skoda Kushaq SUV received five stars for child occupant safety.
Safer than any other Tata/Mahindra car?
First and foremost, it is not about any specific brand, but we used the names Tata and Mahindra because, prior to the testing of Taigun and Kushaq, the Mahindra XUV 700 and Tata Punch ranked first and second respectively on the list of safest cars in India. Furthermore, these two brands are the only ones that have the most number of vehicles that have received excellent crash test ratings.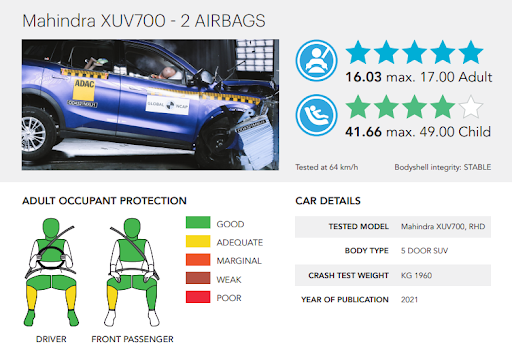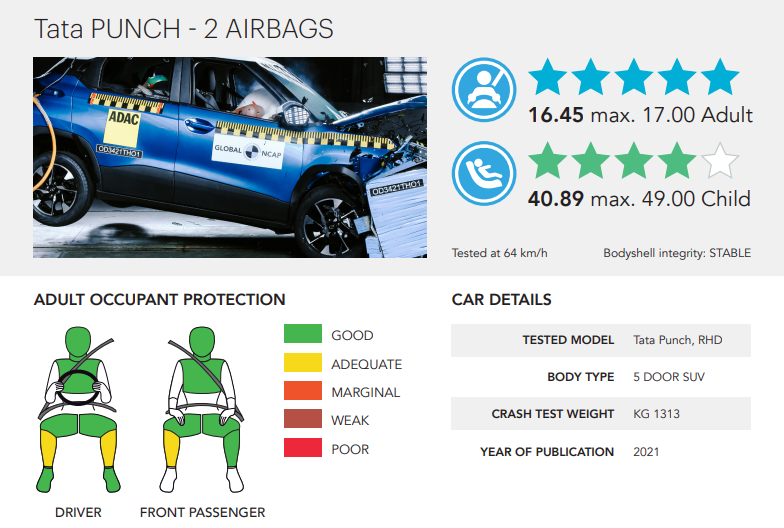 However, things have changed because the VW Taigun and Skoda Kushaq are the first vehicles to be tested using updated GNCAP protocols that differ from those used prior to July 2022. The GNCAP crash test is now more stringent than it was when the Tata Punch and Mahindra XUV 700 were tested, and achieving such high ratings in the most recent GNCAP test protocols has clearly proven that the Volkswagen Taigun and Skoda Kushaq can perform as well as more expensive European vehicles.
Aside from the updated Global NCAP protocols, the Skoda Kushaq and VW Taigun have also received 5-star ratings in Child Occupant protection, and prior to these vehicles, no "Made-in-India" car in India had received a 5-star rating in Child Occupant protection.
Updated GNCAP test Protocols
Previous protocols prioritised frontal crash tests and an additional side crash test would be performed only on vehicles aiming for five stars or on vehicles that were volunteered. New protocols require that side crash tests be performed as a standard procedure.
This means that, under the new test protocols, Global NCAPs now consider frontal and side impact protection for all tested models. Furthermore, assessments of Electronic Stability Control (ESC), pedestrian protection, and side impact pole protection are required for vehicles in order for them to receive the highest star ratings. It should be noted that points are now awarded for both front and rear seat belt reminders.
The Skoda Kushaq and Volkswagen Taigun received 29.64 out of a possible 34 points for adult occupant protection. Both midsize SUVs received 42 points out of a possible 49 points for child occupant protection. According to GNCAP reports, both vehicles performed well in side impact tests.